A great Test Environment Management Maturity Assessment, courtesy of the team at Enov8. Built around the 8 key dimensions of IT & Test Environment Management i.e. Knowledge, Demand, Planning, Service, Reporting and Orchestration of Data, Apps & Infrastructure.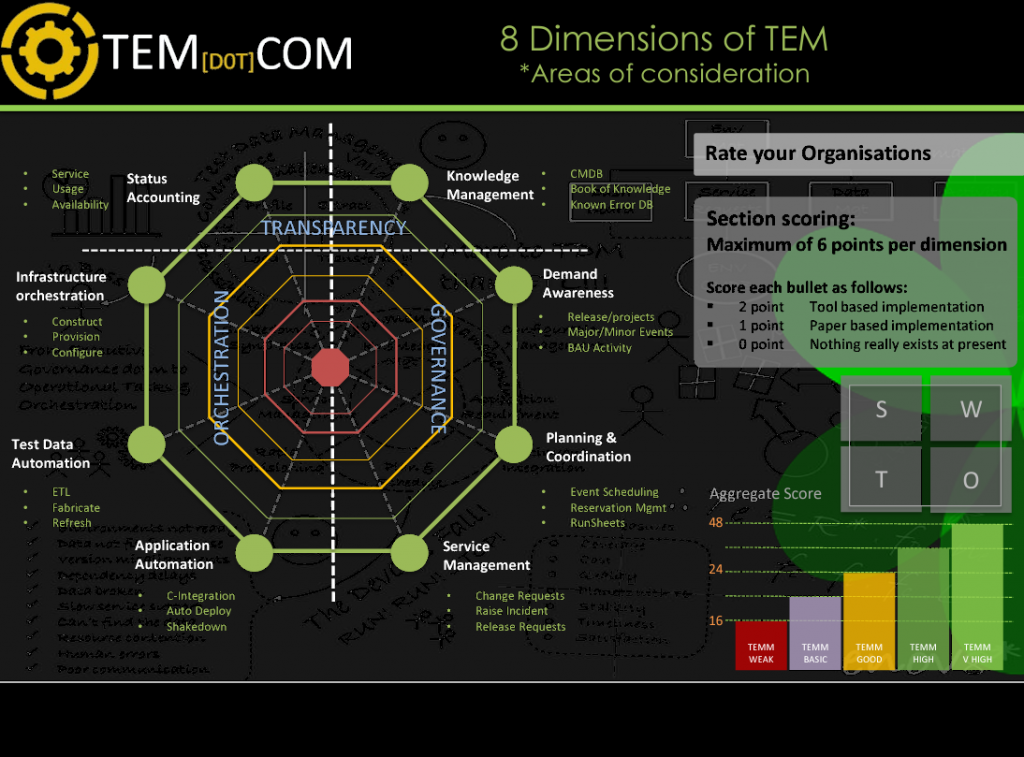 Original Source: Enov8 TEMMi
The Environment Management Maturity Index (EMMi) is a model developed by Enov8 to assess the maturity of IT and Test Environment Management practices within organizations. Initially referred to as TEMMi, the EMMi aims to provide a comprehensive understanding of an organization's environment management capabilities using a standardized "frame of reference." It facilitates self-assessment by helping organizations identify strengths, weaknesses, opportunities, and threats related to their environment management practices.
The EMMi is divided into eight key performance areas:
Environment Knowledge Management: Understanding IT environments throughout their lifecycle, encompassing project delivery phases and production. Effective intelligence mapping from top-down (business units, processes) and bottom-up (components, interfaces) perspectives is crucial.
Environment Demand Awareness: Recognizing the consumer groups (e.g., project teams) utilizing the environments and understanding their demand, thus enabling better planning and coordination.
Environment Planning & Coordination: Proactively planning and coordinating environment events and deployments to ensure timely availability and appropriate configuration.
Environment IT Service Management: Employing customer-focused IT service management principles, including incident, change, and release management, even in non-production settings.
Application Release Operations: Implementing consistent, repeatable, and traceable application release processes, potentially automating repetitive tasks.
Data Release & Privacy Operations: Implementing consistent, repeatable, and traceable data release processes, including automation of time-consuming tasks.
Infrastructure & Cloud Release Operations: Ensuring consistent, repeatable, and traceable release processes for infrastructure and cloud components, ideally with automation.
Status Accounting & Reporting: Capturing and presenting real-time environment information to enhance analytics, decision-making, and optimization efforts, encompassing aspects like topology, health, usage, and competence.
To evaluate their maturity in each key performance area, organizations can use the EMMi scorecard. They assess themselves from three perspectives: People (skilling), Process (repeatability), and Product (tooling), assigning scores from 1 to 5.

Note: A new online EMMi assessment tool can now be found here: Maturity Index.
Give it a try and see how mature your organization is.